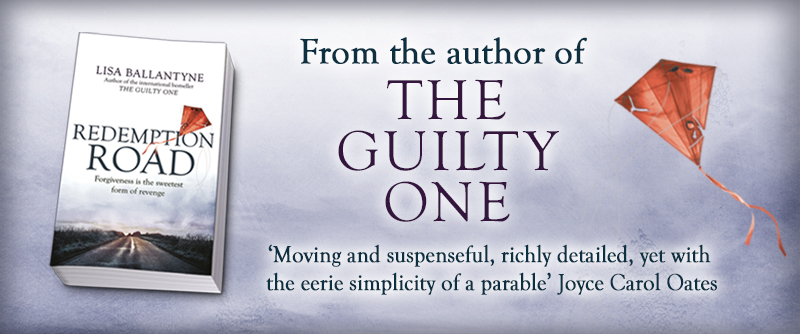 Redemption Road, Lisa Ballantyne's second novel after international bestselling debut The Guilty One, publishes on 16th July 2015. Here, Lisa answers questions about both novels.
*Note: the final question contains spoilers so you may want to skip until you've read the book*
Both REDEMPTION ROAD, and your first novel THE GUILTY ONE deal with questions of nature vs. nurture. Do you believe one plays a more important role than the other?
I think the interplay between nature and nurture and free will is endlessly fascinating and I continue to hope for the power of human choice to overcome, but oftentimes this proves futile. George and his family of Glaswegian gangsters came to me instinctively. I was attracted to the idea of someone growing up amid great violence but refusing to be inured, broken by it. George is an example of the tragic questing hero, struggling to escape his environment and, to a large extent, himself, but who ultimately fails. I think George is the soul of this novel, and his failure is heart-breaking.
What was the first creative seed for REDEMPTION ROAD? Did a character or a storyline come to you first?
When I first began to work on REDEMPTION ROAD, I was interested in Post Traumatic Stress Disorder (PTSD) and the mechanism of memories from the past impacting on the present. The first scene of the book – involving the car crash and the strange saviour – came to me quite quickly and I knew that the burned man who rescues Margaret would be the key to her past. In writing the 1980s scenes, I knew I wanted to write about a man who steals his daughter and for the journey they took to be a redemptive one, spanning the whole country. I wanted the relationship between father and daughter to gradually soften as the road trip progresses, from one of captor and captive, to one of genuine affection and love.
Did any of your initial ideas change as you wrote?
In the early beginnings of the novel, the father-abductor that I sketched was too harsh and faceless and I had trouble with the relationship between him and his stolen daughter. I started over, and concentrated on George himself, his past and what he had been through to take him to the point where he would want to steal his daughter, after all these years. It was then that Big George was born and I fell in love with him straight away.
Children play an important role in your books, why do you think that is?
In my writing, I always return to relationships between parents and children because it is such fertile ground. Families in general are a wonderful resource for novelists, but children in particular are interesting because their personalities are still developing.
I was also interested in the child, Moll, teaching her newfound father something – as all children are important teachers of adults. It was then that I hit on the idea of George being illiterate because of the institutional violence that he had experienced at school. Moll's patient teaching not only liberates George but also repairs some of the damage that was done in his past.
You grew up in the eighties like Moll, what, if anything was taken from your own memories of childhood at that time?
I enjoyed plundering my memory for the quirky details of those times, such as the insalubrious Tennent's lager cans with the underwear models on the side. The ubiquitous powder-blue Volkswagen camper van that features in the road trip was something I remembered from childhood, as close family friends used to transport their seven children around in an olive-coloured VW. It was fun for me to revisit those years, with real telephones and telephone directories, and Angel Delight desserts.
Do characters ever take you by surprise while you are writing?
The scene where the teenage George and his loan shark father visit a debtor on a building site was an interesting one to write. It was one of the rare occasions when a character takes over and I as the writer watched the scene I was writing unfold. I knew George intimately, and I knew that he couldn't do what his father was demanding of him. The outcome of the scene was George's only choice and so he made it for me.
Did you ever imagine the book ending another way?
It is hard for both the writer and her readers when the hero dies at the end of the book and for me I wanted to literally bring George back to life – not just as he had become, but as he had been, all those years ago, in the dark recesses of Margaret's memory. Ghosts are tricky to render if not infrequent in novels, but the ghost's manifestation at the end of REDEMPTION ROAD is exactly how one of my aunts described her husband appearing to her, soon after he died. It was an image that had always stayed with me and so I chose it for the ending of my novel. It seemed right that the love between my main characters would survive in some tangible way.
Redemption Road publishes in paperback on 16th July 2015.