Q & A with Lisa Ballantyne – Once Upon a Lie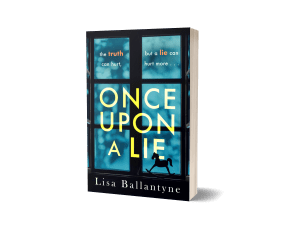 Tell us about your novel, Once Upon a Lie, and what inspired you to write it.
This is a novel about two friends; Lorraine is a struggling, single parent while Clare has been trying to conceive for many years. Their friendship is blown apart when Lorraine's little boy, Theo, dies while spending the night with Clare and her husband, Sam. Children are a great joy and a privilege and I wanted to write a book about different perspectives on fertility and why we choose to have children, as well as the pain of being unable to have them. The adult relationships in this book pivot around the subject of fertility. I also wanted to write a book about time and how truth and lies can come to the surface years later.
What topics do you explore in the novel?
The novel touches on a lot of difficult subjects, such as recurrent miscarriage, infant death, but also discusses broader themes about guilt and innocence and considers how good people can sometimes do bad things. The novel is divided into three sections: The Miscarriage, The Punch and The Betrayal. It begins with a literal miscarriage, but also considers a potential miscarriage of justice. Since my debut novel, The Guilty One, this is the first time that I have returned to the courtroom.
Did the book entail a lot of research?
I was grateful to have had a lot of help in researching this book: a former lawyer and a police officer helped me to navigate the Scottish legal system. In a criminal trial in Scotland, three verdicts are possible: guilty, not guilty and not proven. The not-proven verdict is also an unequivocal acquittal, but I wanted to explore the implications of that verdict for the victim and the accused: residual guilt and blame resulting from perceived lack of exoneration.
Is the setting of the novel important?
The book is set in Edinburgh, a city I know well. As well as the City Centre, scenes in the novel unfold in Leith, Pilton, Corstorphine, Gorgie and Arthur's Seat. In normal times, I would travel to Edinburgh regularly on the train, often as much as once a week. However, Once Upon a Lie was mostly written during lockdown and so I was only visiting Edinburgh in my mind as I wrote the novel. I am a big fan of Robert Louis Stevenson and his psychological thriller, The Strange Case of Dr Jekyll and Mr Hyde also set in Edinburgh. As in Stevenson's classic novella, the main character of Once Upon a Lie, Clare Richardson, has extreme reactions to drugs – in this case alcohol. With her memory patchy, she wonders what terrible things drinking has made her capable of doing…
What themes in this book chime with other novels you have written?
I continue to return to themes of innocence and guilt, parents and children and how the past impacts the present. Again, as in my other novels, the characters are flawed, so that we can consider what it means when good people sometimes do terrible things. My second novel, Good Bad Love (previously published as Redemption Road) dealt with the theme of lost and recovered memory due to trauma. Memory is also important in Once Upon a Lie. The novel is told from different perspectives and deals with not only memory loss due to drugs or extreme guilt, but the things we choose to forget.
Who are some of your favourite authors?
Kate Atkinson, Joyce Carol Oates, Pat Barker, Marilynne Robinson
Do you have any recent reading recommendations?
Books I have enjoyed in the past year include, American Dirt by Jeanine Cummings; Platform Seven by Louise Doughty; Actress by Anne Enright and The Marsh King's Daughter by Karen Dionne. I am very much looking forward to Case Study by Graeme Macrae Burnet.